About
Karuna Advisors was founded by Janine Bisharat who wanted to create a professional services firm focusing on tax compliance, consulting and family office management for wealthy clients.
Karuna provides a team of certified public accountants and professionals that have years of experience and in-depth resources to complete the technical expertise as needed. We are your trusted business advisors and our goal is to provide you with proactive advice so you can make informed, timely decisions.
We leverage technology including only using Apple computers, to share our screens with both clients and employees who telecommute. We use the Enneagram in our practice to understand each other better, including our clients so that we may deliver information most efficiently and effectively to you.
Main Office
1550 El Camino Real
Suite 250
Menlo Park, CA 94025

Phone:

(650) 328-2758

Loading Email...
Janine Bisharat, CPA
Principal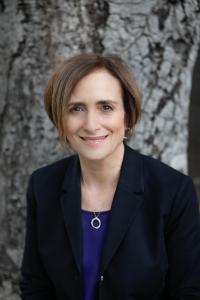 Janine is the founder of Karuna Advisors and has over 30 years of experience in tax and family office services primarily working with the founders of private and public companies, their entities and businesses. Janine started her career at Deloitte and attributes her creativity and approach, to her experience of over seven years at Deloitte. She also spent time at other nationally ranked firms working with high net individuals and on high profile forensic accounting divorce work.
Janine enjoys walking her dog, taking classes at the gym, taking vacations with her son Aron, and is finally completing her Masters in Tax from GGU.
Kim Murray
Director of Administrative Services
Kim Murray joined Karuna Advisors in 2014. Prior to joining Karuna Advisors, Kim worked at SVForum, the largest Silicon Valley technology non-profit that supports the startup, entrepreneur and VC community. In her role at SVForum she enjoyed a wide-range of responsibilities which included managing the VC/entrepreneur pitch events and the volunteer and membership programs. Her experience at the non-profit provided her with the opportunity to be immersed in Silicon Valley and the emerging technologies. Prior to SVForum, Kim worked at Addison/Wesley Publishing and was responsible for the Educational Workshop Program. Kim graduated from University of California, Santa Barbara with a B.S. in Communication Sciences and enjoys spending time with her family and friends.
Lindsay Gardina, CPA
Director of Tax Services
Lindsay Gardina joined Karuna Advisors in January 2017 as a senior tax manager. Prior to joining Karuna Advisors, she worked for a large, regional public accounting firm in Silicon Valley where she gained extensive experience working on high net worth individuals, their families, trusts, and family limited partnerships. She specializes in assisting her clients with complex tax matters including planning for stock options, charitable gifting, and qualified small business stock, as well as gift and estate planning to help minimize taxes while maximizing transfer of assets to the next generation or other intended beneficiaries. Lindsay enjoys working in a small team environment at Karuna Advisors, and prides herself in providing superior service to both internal and external clients.
Laura Wright, CPA
Director of Family Office
Laura Wright leads our family office team and provides financial reporting, accounting, capital management, and consulting to individuals, families and their entities. Laura has extensive experience in public accounting. Prior to joining Karuna Advisors, Laura worked for over a decade in the tax department at a large local public accounting firm. This experience gives her valuable perspective and insight.
Sabneer Bains
Senior Accountant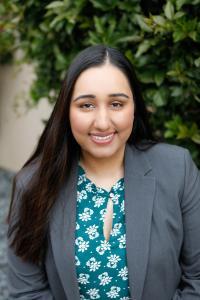 Sabneer Bains joined Karuna Advisors in July 2016 as a staff accountant. As a recent college graduate, she is excited about learning and gaining first-hand experience in tax compliance and planning. Outside of work, Sabneer enjoys playing basketball, dancing, and spending time with family and friends. She devotes her time to coaching her local high school's girls' basketball team. Sabneer has a B.S. in Accounting from Santa Clara University.
Grace Davenport
Bookkeeper
Grace Davenport joined Karuna Advisors in 2016. She was previously employed as an Account Manager at Emcore Corporation and at Intel Corporation for over 10 years. She has extensive experience working with customers worldwide in a high pace environment. She studied Business Administration at San Diego State University and is currently going back to school for her Accounting degree. She enjoys spending time with her husband and two children and is fluent in both English and Spanish.
Lauren Johnsrud, CPA
Director
Lauren Johnsrud joined Karuna Advisors in July as senior manager for Family Office and Tax. Prior to joining Karuna Advisors, she worked for a regional public accounting firm in Silicon Valley where she gained experience working with high net worth individuals and their related trusts, private foundations, entities and estate planning. Lauren worked for a large Family Office client preparing financial statements and various tasks for the family.
Lauren enjoys running and always strives to serve her clients with excellence.
Brenda Regalado
Staff Accountant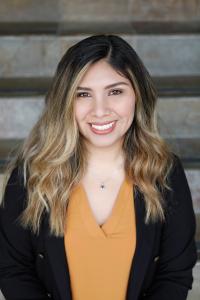 Brenda graduated in December of 2017 from San Jose State University with an accounting degree. She enjoys hiking, reading, and is learning to cook. She also enjoys spending time with freinds and family on the weekends.